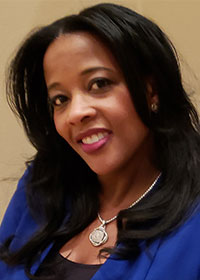 Shonda W. Harmon, MBA, MPA
Practice Manager
My favorite part of my job is getting to know our patients, welcoming them into our orthodontic family, and building relationships with them. At the end of treatment, seeing the beautiful "Harmon Smile" we've created for them makes me smile right along with the person. As our practice manager, I make sure that each patient and their family feel like VIPs throughout the treatment process, and I am always here to help with whatever a patient might need in order to have a positive experience. I strive to ensure that our practice is delivering superior orthodontic care in a family-friendly environment. Our whole team is committed to that goal, too, including my husband, Dr. David Harmon, our orthodontist.
Dr. Harmon and I are happily married and we have two beautiful children, Kennedy and David III. When I'm not cheering for our kids at their sporting events or helping with their school activities, I find time to try new restaurants, travel, and shop. I'm also a proud member of Delta Sigma Theta Sorority Inc.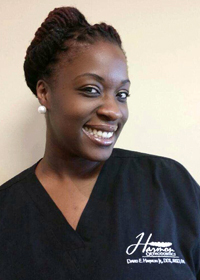 Terry
Certified Orthodontic Assistant
I love watching a patient's whole life change as their teeth straighten and they start to see their new smile develop. The best day is when the patient sees the end result of all their hard work: their beautiful, perfect smile! Because orthodontic treatment takes time, and we get to see patients regularly, we get to know them and they become friends. So that day when the braces come off, we're celebrating because a friend has accomplished something wonderful and we're happy for them. I provide assistance to Dr. Harmon as he cares for patients, and I take X-rays, too, as well as sterilize equipment and tools, but my favorite part of the day is talking with our patients.
Outside the office, I prefer to spend my time with my young daughter, Makenze. I also volunteer with seniors in our community and love watching sports.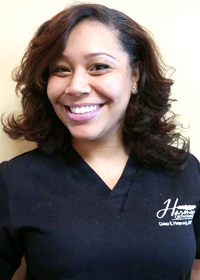 D'Nae
Front Desk Coordinator
The highlight of my day is talking with our patients and getting to know them. I love our interesting conversations and what I learn from each person. It's a wonderful feeling when a patient feels great about their smile as a result of the care we've provided, and I am happy to be part of that process. Being of service to our patients is my primary goal. From scheduling appointments, to coordinating insurance benefits, I aim to provide our patients with the highest level of service.
Right now, my free time is spent as a new mom to my adorable son, King.
Front Desk
****PHOTOS and BIO Coming Soon****
Front Desk/Lab Technician
****PHOTOS and BIO Coming Soon****
Orthodontic Assistant
****PHOTOS and BIO Coming Soon****
Orthodontic Assistant
****PHOTOS and BIO Coming Soon****
Orthodontic Assistant
****PHOTOS and BIO Coming Soon****
Elijah
Lab Technician
****PHOTOS and BIO Coming Soon****